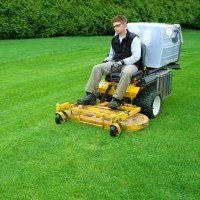 Lawn Care Southern Maine – Serving York County 34 Years!
207 Lawn Care Southern Maine – Serving Biddeford, Saco, Kennebunk, Kennebunkport, Wells, Sanford, Buxton, and surrounding Communities Since 1984!
"Our Focus Is Lawn Care"
We at 207 Lawn Care have been in the business of serving the needs of discerning Southern Maine customers for 34 Years! We serve customers in Biddeford, Saco, Alfred, Kennebunk, Kennebunkport, Wells, Sanford, Buxton and Scarborough to name a few.
Our primary focus at 207 Lawn Care is building and maintaining beautiful lawns. Providing 34 years of hands on experience and techniques achieves just that! Your beautiful lawn is our best advertisement to your neighbors. So you see we have a vested interest in providing you with a beautiful, lush, carpet like lawn. A lawn maintained by us is often times the envy of the neighborhood.
The Lawn Mower is key to a quality cut
At 207 Lawn Care we carefully select commercial grade zero turn mowers. Quality lawn tractors are key to providing our customers with the expertise they deserve.
Call (207) 499-2617  or  (207) 205-7469
   Ask yourself the following…
Is my lawn so bad that it has earned the name "Desert Of Maine" and become a tourist attraction?
Do your neighbors regularly congregate on the sidewalk facing your lawn pointing at it with sneers and snickers?
Do the neighborhood dogs naturally gravitate to your lawn for relief?
Have the neighborhood cats adopted your lawn as their favorite litter box?
Has the government identified your lawn as protected habitat due to its strange and unique plants?
Has the warden service requested use of your landscape for wildlife habitat?
Has your landscape ever been on the evening news due to landings of strange out of this world space crafts?
Have you ever awakened to discover a sign placed on your lawn with the words.. "New Town Dump Here?
Have you ever been approached by a traveling circus and asked for permission to set up tents for two weeks?
     If you have answered yes to any of these questions it's urgent that you call 207 Lawn Care Today!
 Lawn Care work areas focus 
Serving the Lawn Care needs of Southern Maine to include
Biddeford
Saco
Kennebunk
Cape Porpoise
Kennebunkport
Ogunquit
Wells
Alfred
Sanford
Springvale
Berwick
Lyman
Dayton
Waterboro
Buxton
Old Orchard Beach
  207 Lawn Care is now expanding into the following Southern Maine areas
Scarborough
Cape Elizabeth
Call (207) 499-2617    Or     (207) 205-7469